Family Feeding Matters: A Collaborative Project Inspired by Natural Sow-Piglet Behaviours to Ease Weaning Transition
R&D
2021
Swine
Innovation
Press release
12 October 2021 – the Netherlands – Suckling is an innate process, but piglets generally learn what and where to eat and drink from the sow and their littermates. However, these mimicking processes are typically not practical in conventional pig production. This gives rise to the question: how to facilitate the piglet's feeding and drinking behaviour, thereby easing the transition from sow's milk to solid feed?
This question helped inspire the Family Feeding Matters project launched three years ago through collaborative efforts of Vereijken-Hooijer, the Dutch Ministry of Agriculture Nature & Food Quality (LNV), and Trouw Nutrition. Wageningen University & Research (WUR) served as executive partner and is publishing the first findings today.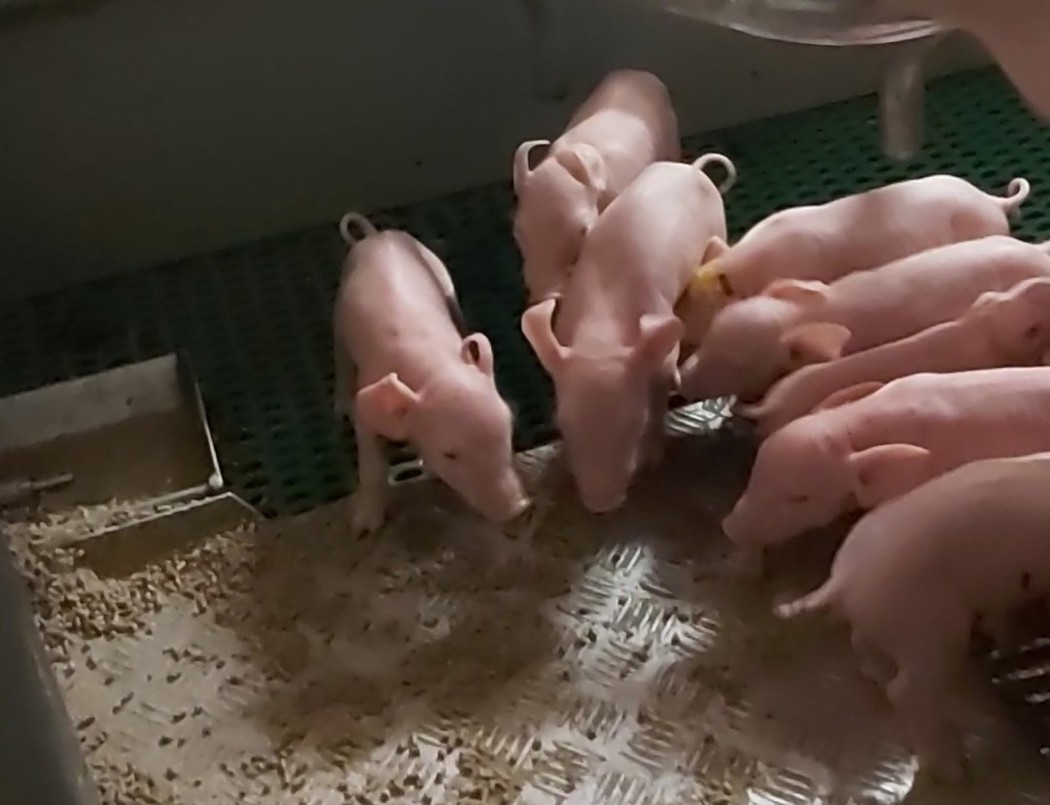 Rooted in an extensive review of how sows and piglets behave in the wild, the Family Feeding Matters Project considers how sows' natural foraging and maternal behaviours help piglets learn to eat and drink safely. It also looks into how littermates act as a reference for individual piglets to learn how to eat. Researchers developing the Family Feeding Matters Project studied how pigs naturally experience and respond to the varied tastes, textures, and olfactory nuances of food in the wild, starting as early as gestation.
This research combines information on the diversity of food found in the natural eco-system of wild pigs and studies on animal behaviours from scientific studies of pigs around the globe.
The Family Feeding Project aligns with increased interest in alternative housing systems during lactation. These programs aim to improve welfare, health, management and economics by improving the conventional farrowing crate, trough and feed components with a more nature-inspired concept. A stakeholder group of pig farmers in the Netherlands was heavily involved in developing the Family Feeding Matters Project to ensure the system would be practical and profitable. The project is comprised of two components – the Family Feeding System specifically developed by Vereijken-Hooijer, and a proprietary Family Feed developed for this study by Trouw Nutrition.
The feeding system is created to reflect elements of natural feeding as it provides a social eating and drinking place where piglets interact with the sow to familiarise themselves with solid feed at an early stage. The system also integrates "play" elements into feeding by including enrichment materials around the feeding place. The feed's ingredient profile and physical composition include nutrients tailored to support piglets' digestive and oral motoric capacity and sow's optimal nutrition. In addition, the texture, pellet size and aroma of the feed have been optimised to stimulate feeding behaviours. The inclusion of recognizable flavours into the feed profile from the gestating- to the lactating phase until the nursery, reinforces the sensory cues that piglets receive from the sow even before the farrowing. This flavour component imprints the feed with 'mother scent' and helps piglets recognize it as safe to eat. The Family Feeding System and Family Feed are designed to complement each other and support piglets during the delicate weaning transition.
Bart Hooijer, Director Vereijken says, "In our search on how to facilitate an antibiotic free life, we know that weaning stress is a big topic. At Vereijken we believe that every born piglet should have the potential to become a premium piglet. And although we know farmers will do their utmost to have a smooth weaning process, it is still a big change and therefore a stressful event in life for the piglets. This study, looking at the combination of the Familiy Feeding System together with Family Feed, shows that the sow can play a big role in relieving stress around the weaning period by teaching her piglets to eat solid foods before weaning."
Remarking on the program, Hubèrt van Hees, Swine nutrition researcher at Trouw Nutrition says, "This research combines information on the diversity of food found in the natural eco-system of wild pigs and studies on animal behaviours from scientific studies of pigs around the globe. The results provide more insights into the development and optimisation towards a more natural feeding environment that aims to reduce weaning stress in commercial pig production. Ongoing research at Trouw Nutrition R&D will look into how nutritional interventions can further ease weaning stress and contribute to animal welfare, health and performance."
The completion of the three-year pilot is an important milestone as both companies will build on efforts to support animal welfare and optimise animal nutrition across the production chain.
Family Feeding Matters video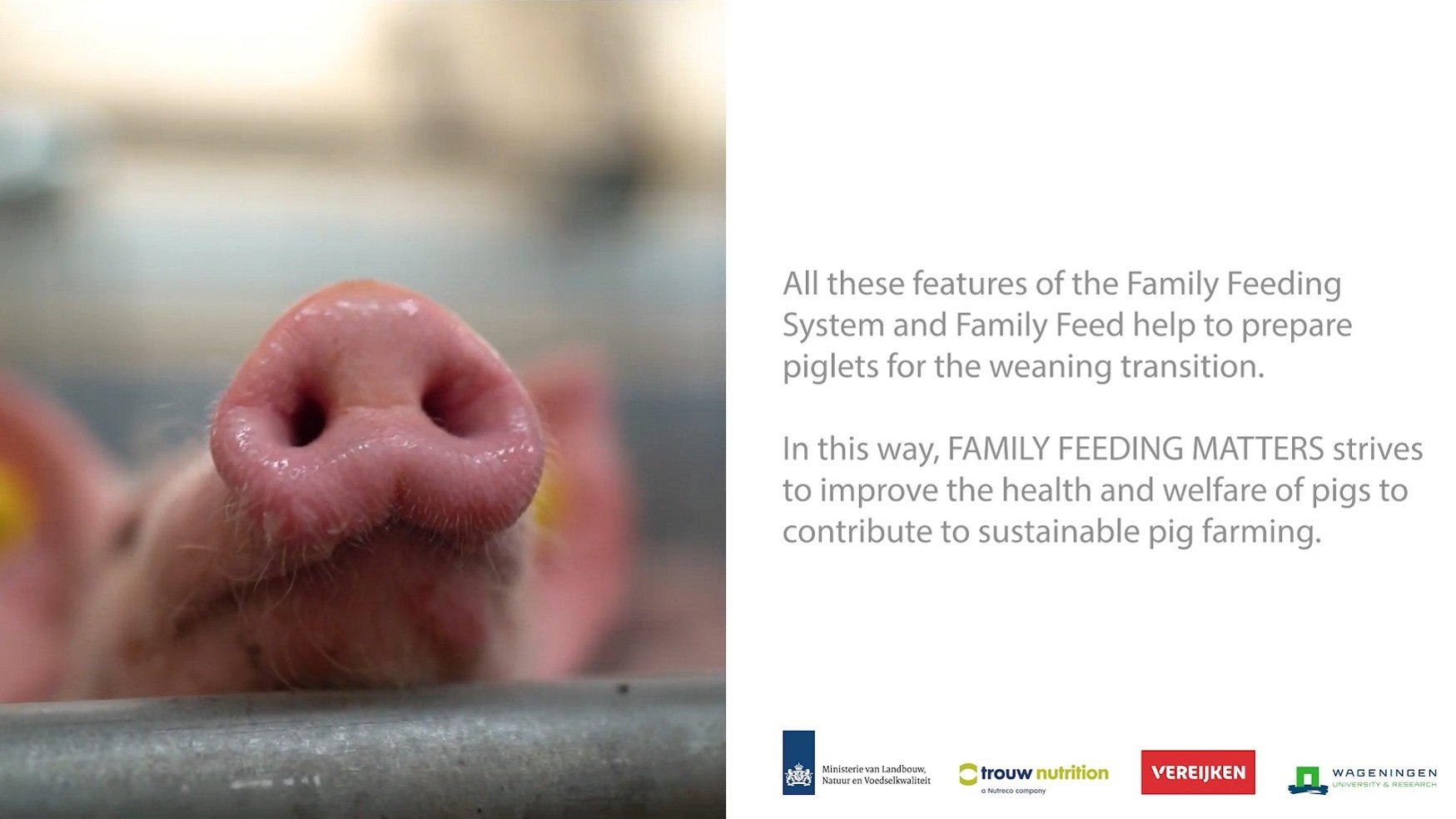 Read the full report (Dutch)
About Trouw Nutrition
Trouw Nutrition, the animal nutrition division of Nutreco, has a 90-year history of dedication to innovation and deep experience in developing smarter and more sustainable ways of raising healthy farm animals and companion animals. Our team of 8,300 passionate people in 32 countries is driven to solve the challenges facing our feed-to-food chain and relentlessly help our customers Feed the Future. Our broad portfolio of feed specialties, feed additives, premixes and nutritional models and services, along with our ever-increasing expertise in feed, farm and health make us a one-stop-shop with limitless opportunities to create tailored, integrated solutions suited to each customer's local situation. And we are everywhere farmers and home-mixers, feed producers, integrators and distributors need us, with a presence in 105 countries, and manufacturing plants in 22. We believe the power of nutrition and good farm management can transform our industry – and even our planet. So, we are challenging how the feed-to-food chain works today, to create a brighter future, from planet to plate.
For more information, please go to trouwnutrition.com or follow us on LinkedIn.
Media contact:
Elise Catusse
elise.catusse@trouwnutrition.com
About Vereijken
Vereijken is an international family business based in Ede, specializing in barn equipment and in particular farrowing systems within pig farming. Vereijken develops innovative, sustainable farrowing systems based on the vision that the success of a pig farmer starts in the farrowing period. The first days of a piglet are the most crucial period for the health, vitality and growth of a pig. Vereijken is internationally active and works closely with an international network of distributors. Since 2019, the French cooperative Cooperl has been involved in a joint venture to create even more value for pig farmers worldwide.
For more information about Vereijken Group: www.vereijkengroup.com