Key takeaways from the research:
Several trials have shown that elevated planes of nutrition early in life have a positive effect on the fertility of dairy heifers.

Elevated planes of pre-weaning nutrition stimulate follicular development

Elevated planes of nutrition post-weaning have a positive effect on reproductive tract development.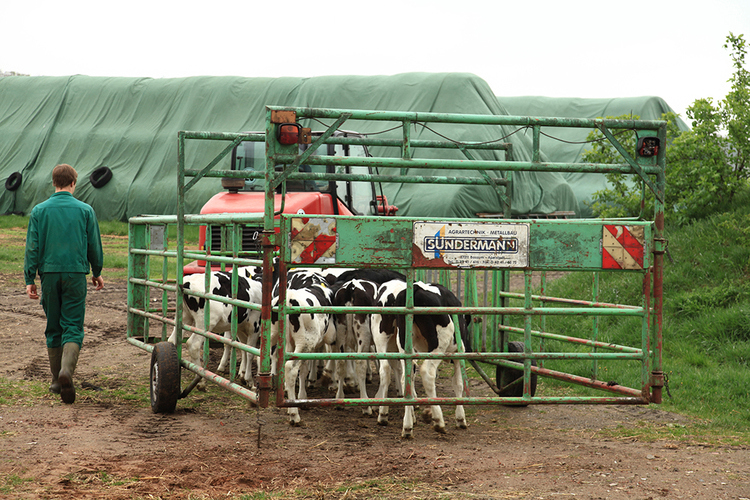 Pre and post-weaning elevated planes of nutrition have a positive impact on follicular growth and reproductive tract development
Research has shown that calf feeding schedules that improve the pre-weaning growth of dairy calves will also reduce the age at which a dairy heifer can be inseminated for the 1st time [1,2].
Raeth-Knight et al [1] demonstrated that calves on a more intensive pre-weaning calf milk replacer calved 27.5 d earlier than those fed a conventional calf milk replacer. In a study carried out by Bolt[2], calves fed according to a restricted feeding schedule were compared to calves fed a LifeStart feeding schedule. The age at first insemination was lower in calves fed a LifeStart feeding schedule compared to calves on a restricted feeding schedule (15.0 vs. 15.3 months), they required fewer inseminations (1.7 vs. 2.1) and calved earlier (24.8 months vs. 25.5 months). None of these differences was significant.
Bruinjé et al [3] studied the effect of elevated planes of pre-and postweaning nutrition on the development of the reproductive tract and oestrus cycle characteristics of Holstein heifers.
Study design
A total of 36 female dairy calves were included in the study. They were randomly assigned to two groups, the high-level group receiving 10 L of whole milk per day, compared to 5 L per day for the low-level group. Both groups were weaned at 60 days of age. Half of the animals in both the high-level and low-level groups were fed an 85% concentrate TMR between 11 and 25 weeks of age vs. a 70% concentrate TMR for the other half. This resulted in 4 groups (HH, LH, HL and LL) including 9 calves each.
Endometrial thickness and follicular count and size were measured by ultra-sound and progesterone levels were measured during 1 full cycle.
Results
In the pre-pubertal phase, the number of class 2 follicles bigger in the calves fed the high pre-weaning diet and endometrial thickness, the number of class 3 follicles and largest follicle size were bigger in the calves fed the high post-weaning diet.
In the post-pubertal phase, progesterone levels at 4 days before luteolysis and the number of antral follicles were higher in the calves fed the high post-weaning diet and they tended to have a higher number of class 3 follicles.
Conclusion
It was concluded that a calf feeding schedule with an increased amount of milk fed to Holstein calves in the first 60 days of life had a positive carryover effect on pre-pubertal follicular growth and that an increased post-weaning plane of nutrition had a positive effect on reproductive tract development.
References
[1] Raeth-Knight, M., H. Chester-Jones, S. Hayes, J. Linn, R. Larson, D. Ziegler, B. Ziegler, and N. Broadwater. 2009. Impact of conventional or intensive milk replacer programs on Holstein heifer performance through six months of age and during first lactation. J. Dairy Sci. 92:799–809.* *
[2] Bolt, A. 2019, Meta-analysis to calculate the effect of rearing intensity on functionality of dairy cows, Research paper Mecklenburg Vorpommern Landesforschungsanstalt für Landwirtschaft und Fischerei.* *
[3] Bruinjé, T.C, Rosadiuk, J.P, Moslemipur, F, Carelli, J.E, Steele, M.A. and D.J. Ambrose, 2019, Carryover effects of pre- and postweaning planes of nutrition on reproductive tract development and estrous cycle characteristics in Holstein heifers. J. Dairy Sci. 102.*
More about calf to heifer
Growth in the first 6 months has a positive correlation with fertility and health
If calves on an intensive feeding schedule grow better, they will have fewer disease problems and better fertility.
A higher pre-weaning feed intake improves mammary gland development
Mammary gland parenchyma and mammary fat pads of calves fed a higher plane of nutrition had greater mass compared to calves on a restricted feeding schedule (10.5g vs. 1.4g and 173g vs. 29g respectively).