Accurate feed data facilitates better discussion with suppliers
Luca Ruggeri, director of purchasing and feed management at a large swine cooperative in Italy and Roberto Bardini from Trouw Nutrition Italy work closely together on formulating the best diets for the animals. This process is made easier by knowing accurate nutritional values of raw materials. Information that is provided by the NutriOpt On-site Adviser.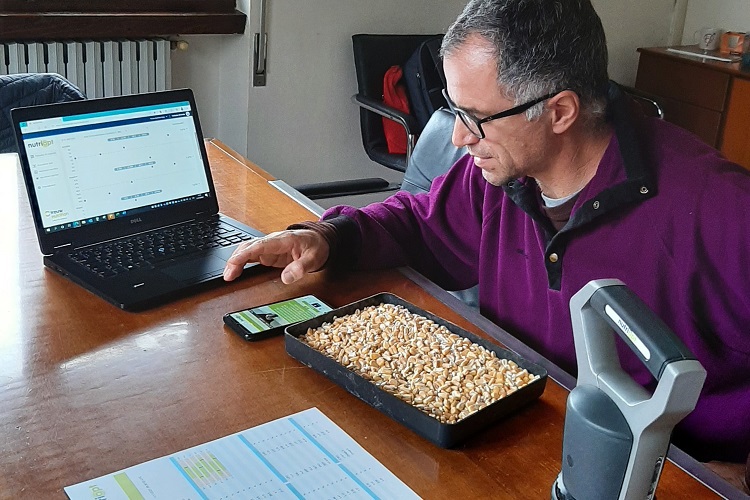 One of Trouw Nutrition's valued customers is a major swine cooperative consisting of 8 associates in the North of Italy breeding a total of 1,800 sows, 9,000 weaners and 15,000 fattening pigs. This size of operations means a whopping amount of feed consumed each day. Main raw materials (for example corn) are produced and processed by themselves, while others come from other suppliers. Luca Ruggeri is the director of this cooperative (C.S.A. Coop Soncinese Allevatori Societa' Agricola Coop). He oversees the purchasing and quality control of incoming raw materials, and checks the self-produced ones, the starting point for formulating accurate and high-performing diets.
Sourcing is a complex issue
Purchasing feed ingredients from different suppliers has always been a complex issue. "We are using reliable suppliers, but I really notice that the raw material market is more disrupted than ever, due to continuous price speculation, and logistical problems. This has also forced us to source some of our feed ingredients from other regions and suppliers", explains Luca. Each month, 5 batches of soybean meal (SBM) arrive at the mixer plant. "I buy soy with a certain amount of protein, and I trust that the batch also contains the crude protein percentage that was agreed upon. A deviation in nutritional values can result in under-or over-formulating and this has a direct effect on feed costs and animal performance", Luca explains.
Scanning when a truck comes in
To get a better grip on what he is buying, both from current and new suppliers, Luca started with the NutriOpt On-site Adviser in the summer of 2021. The On-site Adviser, developed by Trouw Nutrition, is a combination of a handheld NIR scanner, mobile application, and connection to NutriOpt's Nutritional Database. Samples of feed ingredients can be measured on the spot and the insights help farmers optimise their ration. "I find it very easy to use. And I like it that you don't have to grind the raw materials first to scan them. When a truck of raw materials arrives, I can take sample and scan it straight away". Together with Roberto Bardini, swine species manager at Trouw Nutrition Italy, this helped Luca to adapt feed formulation on a more regular basis. "The first main benefit of using the scanner is that I can confirm the nutritional values in the raw materials that come in. If there is a deviation in the protein level in the soybean meal for example, it means I must tell Roberto to redesign formulations", says Luca.
The first main benefit of using the scanner is that I can confirm the nutritional values in the raw materials that come in.
Formulating the most optimised diets
"It is important to know the exact nutritional values to be able to formulate the most optimised diets", explains Roberto from Trouw Nutrition. We now have accurate nutritional values of the feed ingredients, but we can also scan the finished feed. This allows us to verify that what I have formulated also reached the finished compound feed. It is fundamental to ensure that important groups such as the fattening pigs and gestation sows get all the nutrients they need". The NutriOpt On-site Adviser proved its value straight away when Luca bought wheat in the summer of 2021. "It was the first time that we used that supplier. The wheat came from outside Italy from an unknown field, so we used the on-site scanning to measure the protein and starch contents".
Use of feed data in MyNutriOpt
The NutriOpt On-site Adviser fits in the swine producer ambition to constantly improve and optimise. C.S.A. did see an improvement in feed conversion rate this year, but Luca addresses that this is not solely related to more on-site testing of the feed. "It is a combination of improvements we made as of July this year, including the start with the on-site scanning of raw materials. The NutriOpt On-site Adviser reports are visible in the MyNutriOpt portal that both Luca and Roberto can access online. In the portal, Luca combines the sample results from all the batches to create an average. He does this with all the different types of feed ingredients. Luca: "I send over this data to Roberto so he can use the data in his feed formulation software and re-evaluate the formulations. We have a meeting on our farm every month. I am very happy about this service and the technical support I receive from Trouw Nutrition. It really helps our swine integration improve".
Better discussion with suppliers
Luca can also discuss better with his suppliers because he has the most accurate data available. "Using the NutriOpt On-site Adviser gives us the possibility to have a discussion with the suppliers. The other day I received a batch of soybean meal in which the protein levels were lower than agreed. The supplier then fixed the protein content in the next batches. You must stay on top of it and stay sharp. With the current crazy and disrupted raw materials market, I must know what I am buying because I am using more different suppliers. At the same time, margins are tight in swine production. With the use of the On-site Adviser, I have control over feed ingredients and finished feed. That gives me peace of mind", Luca concludes.